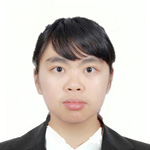 CONTACT
Suite 3901, 39th Floor, Profit Plaza, 76 Huangpu Avenue West, Tianhe District, Guangzhou 510623 China
Tel: (86)(20) 3839-2008
Fax: (86)(20) 3839-2009
Email: anderson.guangzhou@anallp.com
Ms. Jiang has been professionally active as an IP consultant and the head of the firm's IP division since 2014. The scope of her expertise is expansive, as she has successfully aided a considerable number of company and person at home and abroad on patent application, trademark registration, copyright registration, patent reexamination and invalidation. Ms. Jiang Yingyan's talent stems from her ability to speak with clients thoughtfully, render insightful legal advice, and a conviction that her support should endure until the matter is resolved. She is an invaluable member of the Anderson team and remains a source of sound IP consultant for clients.
Education:
July 2013 South China Agricultural University, Guangdong, Bachelor of Science and Engineering
Languages:
Fluent in Chinese, English
Examples of Cases and Transactions:
Patent application and response to further office action;

Patent invalidation;

Patent and technology transfer;

Trademark registration;

Trademark transfer;

Renewal of trademark.